Attics Are All We Do!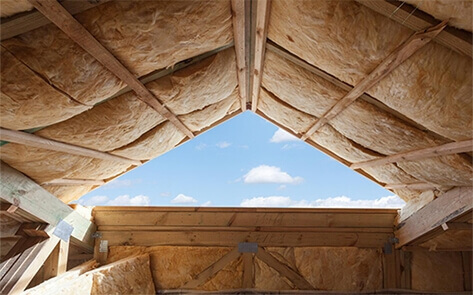 Toronto homeowners know - the GTA is home to brutal winters and blistering summers, making the heating and cooling system one of the most important parts of the home. Many homeowners don't realize how integral their home's attic and roof are to regulating home air temperature, and issues like poor attic insulation and ventilation can seriously affect the effectiveness of a home's HVAC system.
Expert Service & Installation
At EcoComfort Insulation & Contracting, attic insulation is all we do! For almost 10 years, we've specialized in ensuring our customers throughout Toronto and the GTA enjoy comfortable living spaces and affordable energy bills with quality attic and roof insulation and ventilation.
Safe, Canadian-Made Materials
Using only Canadian-made, chemical-free insulation materials, EcoComfort takes care to manage each and every project safely and professionally. Our team of licensed attic insulation contractors are insured, and highly-trained to fully inspect your attic, and assess how to create the optimal environment for your family.
EcoComfort trusts high-quality blown-in cellulose insulation to accommodate the unique requirements of an attic space, and of your family. Cellulose insulation is non-toxic, and non-hazardous, so we can increase your home's thermal perfomance in as little as one work day, with you there the entire time! Blown-in cellulose insulation has the added benefit of being pest and fire retardant, for a little extra peace of mind in one of the less-frequented areas of your home.
Customer Satisfaction, Guaranteed!
We know your home is one of your greatest investments, that's why every project is backed by warranty, and our 100% customer satisfaction guarantee! Whether you need to remove and replace old attic insulation, top-up existing attic insulation, or increase ventilation in your attic, trust the attic insulation experts at EcoComfort Insulation & Contracting!